This keto recipe is fairly simple and a fast way to get bread rolls on the table. While it uses more than a few ingredients, the amount used makes it easy to make multiple batches.
Keto Bread Rolls
Ingredients
Wet Mixture
2

Cups

Shredded Mozzarella Cheese

2.5

oz

Cream Cheese

1

Egg
Dry Mixture
1/3

Cup

Coconut Flour

1/3

Cup

Almond Flour

1/3

Cup

Flax Seed Meal

1/2

tsp

Baking Powder
Toppings
3

Tbsp

Butter

(Melted)

Sea Salt
Instructions
Preheat oven at 400 degrees.


Mix almond flour, coconut flour, flax meal, and baking powder in a bowl.

Add mozzarella and cream cheese to separate microwave safe bowl.

Microwave for 1 minute and stir.

Microwave 30 seconds and stir.

Add dry mixture to the wet and mix it a bit.

Pour entire mixture out onto wax paper and knead the dough so it is thoroughly mixed.

Split into 6 rolls and shape them.

Put them onto parchment paper and score the tops.

Coat rolls in half of the melted butter and lightly sprinkle with salt.

Re-apply butter and cook for 6 minutes.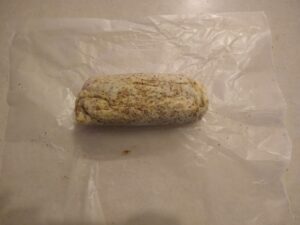 The most difficulty I have found with this recipe is when the wet and dry mixtures come together. While the wet mix could be microwaved longer in order to make it thinner and easier to mix, it would make it harder to work by hand. It would also start cooking the egg before it was incorporated, making it less of a mix and more having chunks of cooked egg in the rolls.
Kneading the dough is very important. The way the mix is, I usually have half the dry mix incorporated before I start the kneading process. I fold it until all the spare mix is included and it looks mostly uniform. If you work it too much, it makes it more dense.
The scoring of the top, even if only once, is necessary due to the speed at which it bakes. Without the score, the outer shell would solidify first, which makes the whole roll feel dense and grainy when finished baking.
Sometimes it is hard to get a good spread of butter on the outside of the rolls, due to their shape and the brush used to coat it. It is very necessary as it provides a nice golden color and slows the speed at which the outer shell solidifies. Be as thorough as possible when spreading the butter, especially the first time.
The shape is something I have spent a bit of time on and I have found the best one to be the short cylinder. As it bakes the rolls tend to melt a bit. The cylinder makes it more uniform and provides an 'English muffin' style finish. This gives it enough room to cut in half to make a sandwich, stuff with butter, or simply to make two separate platforms for toppings. To get the shape this way, I use the wax paper to roll the dough like sushi and cut it into sixths from there.