Wraps are amazing. They can take many tastes and combine them simply with little time, effort, and ingredients.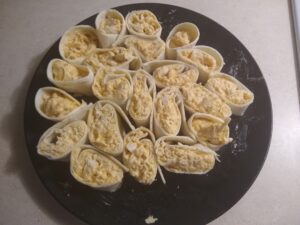 I usually make wraps with cream cheese, cheese, lunch meat, avocado, and sriracha on a tortilla.
My favorite meats and cheeses to add are: bacon, steak, sliced chicken breast, sliced turkey, honey ham, and roast beef; medium cheddar, cranberry cheese, and occasionally swiss.
The best part about wraps, is that they are fully customizable. You can have simple meat and cheese, or add basically an omelet to make a breakfast wrap, or even fried chicken with some sauce (like a twister from KFC).
With how easy they are to make, and the endless combinations, wraps make excellent party plates. They are also good for on the road or limited access to a microwave.
Leafy greens, tomatoes, bell peppers, caramelized onions, and roasted garlic are excellent healthy foods to add. Pretty much any meat can go on it too. Cream cheese, chipotle mayo, honey mustard, BBQ, cranberry, and Buffalo are good sauces to add. Be sure your sauces compliment the rest, your meats are thin/short enough, and your veggies are soft enough. For the most part, I only mix meats when they are sliced but feel free to experiment for yourself.
If you so choose, instead of having sauce in the wrap, or in addition to, you can make it a dipping sauce.
Keto wraps can be made using these or carb balance tortillas from the store. If you use a lot of ingredients to stuff them, a burrito size is best. If you are only using a few base ingredients that don't take up much space, use a smaller tortilla to get a better ratio of filling.