Easy way to make your own roasted garlic.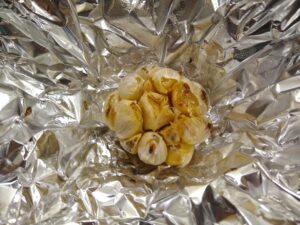 Roasted Garlic
Ingredients
1

head

Garlic

1/2

Tbsp

Oil

per head
Instructions
Preheat oven to 400 degrees

Cut the top of the garlic off, 1/4 inch or so

Drizzle oil over the top and encase in foil

Cook in the oven for about an hour.
You could also buy pre-peeled cloves, which you can get from Costco. I cooked them in a silicone muffin tray atop a pampered chef pan.
The changes I made were to drop the temperature to 375 degrees for 45-50 minutes, covered by foil, filling each cup with peeled garlic and 1 tsp oil stirred in with a spoon to coat them all. After they cooled, I just cut off the hard end and use a fork to smush the pile together into a paste.
If you are cooking only 1 head of garlic, it should take just under an hour, with each new one adding around 5 minutes. It is good to check on them anyway. You are looking for a nice brown (dark caramel) color on the exposed heads.
Beware, the smell is kind of strong and it permeates.
Roasted garlic goes well on so many things. I generally substitute it into anything that uses garlic and add it as extra flavor to others.
Flatbread, roasted garlic, cambazola cheese, and reduced balsamic vinegar are an amazing combination. (Matt's Oyster Lounge)