These delightful taco shells are effective and tasty, not to mention keto.
Keto Taco Shells
Ingredients
1/2

cup

Almond Flour

1/2

tsp

Salt

1

Egg

1 1/4

cup

Shredded Sharp Cheddar Cheese

1/4

cup

Shredded Mozzarella Cheese

1

oz

Cream Cheese

Coarse Sea Salt

topping
Instructions
Preheat oven to 400 degrees.

Mix the almond flour and salt together before adding the egg.

Put all the cheeses together and microwave for 1 minute before stirring. Microwave another 30 seconds.

Mix both the cheeses ad the flour/egg mixture together until they are fully incorporated.

Roll the dough out between cooking-sprayed parchment paper.

Cut into desired size circles. Top with the coarse sea salt.

Bake for 5-7 minutes.

Flip over and bake for 5-7 minutes.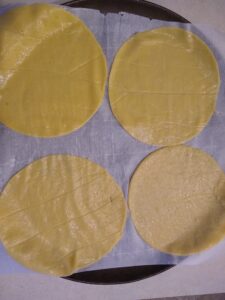 The hardest part of these is definitely shaping them. I had to roll them out many times to get the taco sized circles I needed. There's also the U shape. This can either be done immediately after both baking times and bent onto something to maintain the shape you want. Or, after flipping the tacos, put them onto a shape that wont fail in high temperatures, bake them the second half.
When I made them, I baked them both sides and then put them on Zip Tops using my hands to shape them. I think it would have been way more effective and easy to make a mold using aluminum foil and put that in the oven with them for the second half of the baking.
They weren't the crispiest, but after finishing the shaping a few more minutes in the oven would solve that. This will make them break much easier though. Just be sure not to burn them!
There are a number of toppings/fillings that I recommend: Taco meat (ground beef, onion, taco seasoning), guacamole (avocado slides out too easily), sour cream, lettuce, tomato, shredded cheese, and beans (refried/black- not exactly keto).