This cheesecake is fantastic! Keto or not, it fits well as a dessert.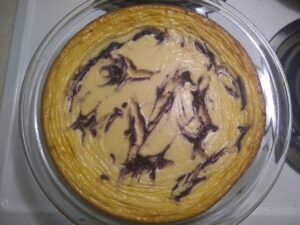 Keto Cheesecake
Ingredients
Crust
4

Tbsp

Butter

melted

2

Tbsp

Erythritol

1

tsp

Vanilla Extract

1

Cup

Almond Flour
Batter
16

oz

Cream Cheese

1/2

Cup

Erythritol

2

Eggs

1

tsp

Vanilla Extract

1

scoop

Raspberry Cheesecake Keto Chow

1

Cup

Heavy Whipping Cream

1/2

Cup

Coconut Milk
Instructions
Preheat oven to 350 degrees.

Mix butter, erythritol, vanilla, and almond flour together.

Press dough into greased cheesecake pan or pie plate.

Bake 11-14 minutes, until it starts darkening slightly.

Remove from oven, and let it sit 10 minutes.

Use a beater to soften cream cheese.

Add eggs, vanilla, and sweetener. Mix in.

Add the Keto Chow and mix.

Add in the milk and cream and mix.

Pour batter on crust and bake at 350 for 25 minutes.

Reduce temperature to 200 degrees, without removing from oven. Bake for 1 hour more.

Remove from oven and allow it to cool and set.

Let it chill in the fridge for 4 hours.
Although it has a lot of ingredients, it is fairly easy to make. The original recipe includes jello and frosting, but I omitted those and it tasted just like regular cheesecake to me.
Since I don't have a cheesecake pan, I just used glass pie pan. I neglected to change the starting temperature because of the difference between glass and metal, but it didn't matter enough for me to do so in the future.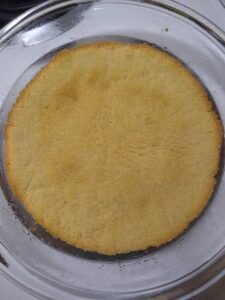 This cheesecake is something that very well may be my desert from here on in. Though I may or may not be cutting it into slightly larger pieces than is strictly necessary. I opt for 8 slices, as opposed to the 12 it probably should be.
While raspberry cheesecake is the flavor that both is given in the original and that I used, I believe you could use pretty much any Keto Chow flavor you wanted to. There are so many delicious flavors to choose from, to suit any number of appetites.
If you want to add some kind of jam to the cheesecake, you can add it when the batter is finished before pouring it in, or after it is poured for more artistic value. There is potential for the jam to burn so it might be better to put a thin layer of the cheesecake back over it when you add it. In the picture above, I only put in 1 Tbsp of blueberry jam. You can also add other things to enhance the flavor, such as cinnamon and nutmeg.