Delicious and filling recipe that lasts for several days.
Philly Cheesesteak Filling
Ingredients
Meat Filling
3

Onions

2

Bell Peppers

3

lb

Steak

300

g

Shredded Cheese

4

Tbsp

Olive Oil

1

Tbsp

Steak Seasoning
Sauce
25

g

Butter

25

g

Almond Flour

75

g

Heavy Whipping Cream

75

g

Water

1/2

tsp

Onion Powder

1/2

tsp

Garlic Powder

1

tsp

Salt

1

tsp

Pepper
Instructions
Meat Filling
Cut up peppers and onions into small slices/pieces. Shred or slice the steak into small bits.

Cook onions covered on low for 20-30 minutes with 1 Tbsp oil.

Pan fry bell peppers on medium for 5 minutes with 1 Tbsp oil, stirring constantly.

Cook Steak on medium with 2 Tbsp oil, adding the steak seasoning.

Mix all the cooked ingredients and add the cheese and sauce.
Sauce
Melt the butter on medium in a small saucepan.

Add the flour and cook for 1 minute, stirring slowly.

Mix the heavy whipping cream and water. Slowly add it to the saucepan while stirring.

Remove from heat and add the salt, pepper, onion powder, and garlic powder.
In order to not separate the recipes from each other for viewing convenience, the rest of the photos for the filling have been moved to after the empanadas.
Keto Empanadas
Ingredients
1 1/2

cup

Shredded Mozzarella Cheese

3

oz

Cream Cheese

1

Egg

1

tsp

Baking Powder

1

cup

Almond Flour

1/4

cup

Coconut Flour
Instructions
Preheat oven to 425 degrees

Mix the flours and baking powder.

Microwave the cheeses for 1 minute, stir. Add 30 seconds and stir again.

Mix egg with the cheeses and flours.

Fill with your choice of filling.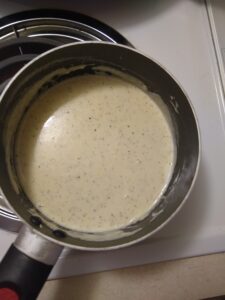 I used pre-shredded steak instead of cutting it for myself. I find it cooks well and is extremely convenient. If you are cutting your own, I recommend freezing it for a short period of time to make it easier to cut and making fairly thin slices. The shreds I used were extremely thin, like pull apart roast beef.
The cut-out empanadas used above were a bit too small for my wife, so I doubled the diameter of them and she loved the difference that made.
I recommend sour cream and sweet chili sauce with the empanadas.