These are very tasty and easy to prepare
Armadillo Eggs
Ingredients
4

Jalapenos

1

lb

Sausage

2

oz

Cream Cheese

1/4

cup

Shredded Cheese
Instructions
Preheat oven to 325 degrees.

Mix cream cheese and shredded cheese.

Cut off the ends of the jalapenos and hollow them out.

Stuff the jalapenos with the cheese mixture and surround with the meat.

Bake for 30-40 minutes depending on thickness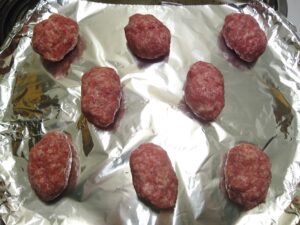 Be very careful during, and after, handling the jalapenos. They are spicy by contact.
If you can, use a piping bag to put the cheeses in the jalapenos. It becomes so much easier than trying to push using a knife. Alternatively you could cut the jalapenos in half lengthwise to make them more like a canoe. I'm not sure what this would do to the cheeses leaking out earlier but it is worth trying.
You can get more, smaller eggs by cutting the jalapenos in half. This is what I did and they were finished at 30 minutes. Though they were only browned on the bottom, the cheeses were leaking out. It might be better to flip them halfway through to get a more uniform coloring.
Original recipe: https://www.theblackpeppercorn.com/2014/04/smoked-armadillo-eggs/